5 Easy Tapas with Chorizo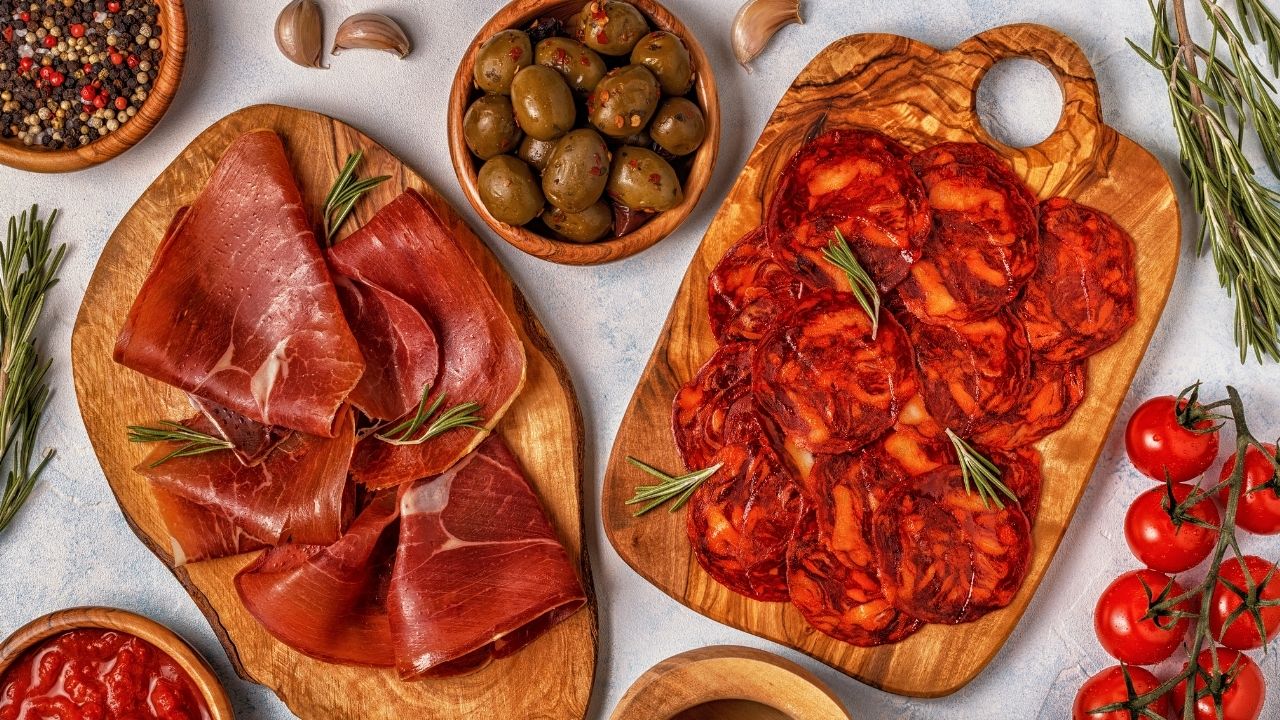 If you are looking to surprise your guests with simple, authentic and delicious dishes. Try one of these easy-to-prepare chorizo recipes.
Among the many culinary wonders of the Iberian Peninsula, Spanish chorizo is a truly outstanding ingredient. This sausage, made from pork, bacon, garlic, paprika de la Vera and various spices, is striking for its intense red colour and powerful flavour, which leaves no one indifferent.
If you want to introduce chorizo into your dishes and recipes, these 5 tapas with chorizo are a simple and delicious way to present this fantastic sausage to your guests.
5 simple and delicious tapas with chorizo sausage
1. Chorizo in red wine
This recipe enhances the already intense flavour of the chorizo with red wine, garlic and bay leaf. This tapa can be found in almost any Spanish tapas bar and is almost always a favourite with those who try it. You can read the recipe for chorizo in red wine on our blog.
2. Scrambled eggs with chorizo
Who doesn't like scrambled eggs? It is a classic tapa with eggs, fried potatoes and some other ingredient which is usually Iberian ham, but you can also make them with chorizo. A tip, have a good white bread at hand, because you are going to need it.
You can read the classic recipe for huevos rotos with Iberian ham in our blog.
3. Charcuterie board
In the world of tapas, as in many others, sometimes the simplest is the best. For example, a charcuterie board is one of the best ways to enjoy different flavours, without the need for much elaboration. Simply place a selection of cold meats such as chorizo, ham, lomo or salchichón on a board or a flat plate and accompany them with some manzanilla olives, Manchego cheese and some country-style peppers. I assure you that it is difficult to find something better to share with your guests.
If you accompany it with a good tempranillo red wine or a vermouth, your friends might just chant your name.
4. Spanish omelette with chorizo
If there is one Spanish dish you have to try, it is the Spanish omelette. This potato omelette is traditionally made with nothing more than eggs, potatoes and onions. But you should know that the addition of chorizo takes it to the next level. Follow the classic Spanish omelette recipe and add chopped chorizo to the pan while you cook the potatoes.
5. Chorizo Sandwich
The chorizo bocata is a classic in Spanish homes. It is the typical sandwich that children eat at school or during snack time. To prepare it, all you need is white bread, a few drops of oil and thinly sliced chorizo. If you toast the bread a little, you might get a tear in your eye when you take the first bite.
Where to buy Spanish chorizo?
At colono we are specialists in Spanish sausages. In our chorizo section you can find chorizo in different formats, always of excellent quality, to prepare your tapas at home.