Visiting Juan Gil Family Estates in Jumilla, Murcia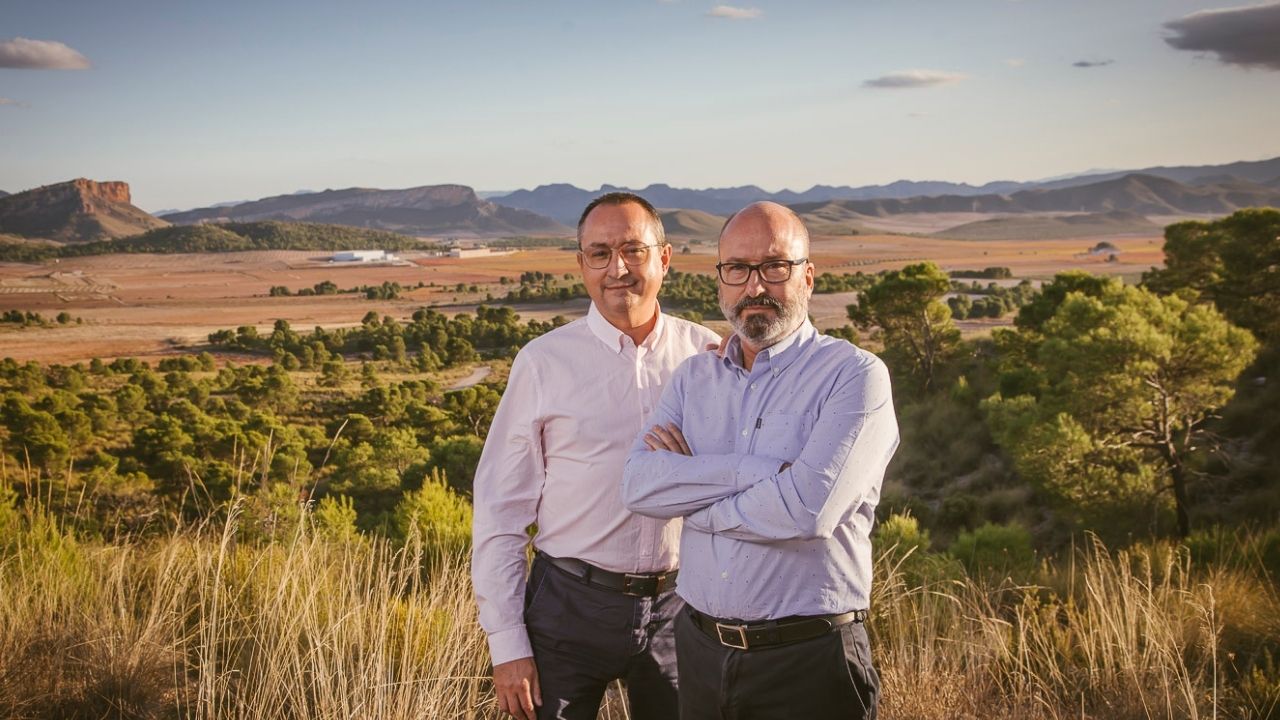 This time we visit the wine region of Jumilla in Murcia, south-west Spain, where María Dugnol from Gil Family Estates welcomes us and tells us a lot about the 100-year history of the winery, which now has estates in ten Spanish D.O. regions. With a focus on old vines and the special "terroir" of the wines, be it from Campo de Borja, from the Catalan Montsant, Calatayud, Toro or white wines from the Galician Rías Baixas, and a clear objective towards 100 percent organic production. Miguel and Ángel from the Gil Vera family are the fifth generation to run Gil Family Estates, and a total of nine siblings, including their partners by marriage, are all involved.
Question: The wine region D.O. Jumilla has experienced a rapid increase in popularity in the past decade, and is also becoming internationally known, alongside the famous Spanish regions of Duero and Rioja, which is also thanks to the Gil-Vera family.
Answer: Half a century ago, wine from Jumilla was sold almost entirely by the piece. They were wines for everyday use, for eating, and many producers didn't bother to put a label on them. The D.O. wine region has history, and viticulture here even more so. In Gil Family Estates, the tradition goes back to the current generation's great-grandfather, Juan Gil Jiménez, and the year 1916. Still working in a quarry, he decided to take up farming to raise his family's quality of life and bought their first vineyards and planted their first vines, among other agricultural products. With the fourth generation, the current one at the helm, they professionalised the production, and the marketing and especially the export. Their father unfortunately passed away at an early age, and the siblings, seven brothers and sisters, the youngest not even ten years young, had to carry on the business with their mother. The mother was convinced that the children should find their own way and studied whatever they felt like. For she knew that viticulture is a very sacrificial field. It is hard work, for the back and in general. And we depend very much on the rainfall in the Levant region. Some studied economics, others became doctors and Miguel, in a way the central figure of the Gil family clan, he studied aeronautical engineering. And he worked at Airbus in Seville. Until he decided he wanted to move back with his family to his home, to Jumilla. His father dedicated his life to wine, and he finally wanted to do the same.
Question: How many of the nine brothers and sisters, including those by marriage, currently work in Gil Family Estates?
Answer: In one way or another they are all involved in the business. But only Miguel Gil and Ángel Gil work full time, Miguel is the aeronautical engineer I mentioned at the beginning. Ángel takes care of the financial part of the business. When he returned to Jumilla, he first worked as an engineer in different companies before dedicating himself exclusively to viticulture, that was around the year 2000 and 2001. He spoke to his siblings and together they decided to buy the family winery and set it up again. They started with, if you will, four and a half wine-growing zones (laughs), and very rudimentary infrastructure. But they knew the region, its peculiarities and they had knowledge about viticulture here.


Question: Since then, Gil Family Estates, in Jumilla, but also in other, excellent, not so well-known wine regions of Spain, has been growing steadily ...
Answer: Yes, because for 21 years now we have been following the premise of investing profits in production again and buying more wineries. Our focus is always on old vines that do not need artificial irrigation because they are deeply rooted. Furthermore, autochthonous, indigenous grape varieties are important to us at Gil Family Estates, and this in D.O. wine regions that are among the up-and-coming ones in Spain. Our goal is always to offer our consumers wines that have a distinct character, a "terroir" as they say, that is unique, also because of the old vines and soils. And this at a price that is affordable for every wallet, and a price-performance ratio and top quality that convince on both sides.
Question: How do you get to the wine-growing areas in tens of Spanish D.O. regions, from the Catalan Montsant to Calatayud (Aragón) and the Rías Baixas in Galicia?
Answer: That's not so difficult, because old vineyards and wine-growing areas are simply family-owned, and it very often happens that the younger generation doesn't want to carry them on. The work in viticulture and agriculture is a hard one, and we buy up old family property. This is a relief for many because we also carry on their work from generations. Many older owners have real treasures of vines with a lifetime of work in them. If no descendant continues the work, it is lost. We also guarantee them that we will continue to cherish the vineyards and vines. And they also know that we at Gil Family Estates have a very big vision for the future.
Question: There are many issues at play here, starting with the rural exodus, which leaves many communities in Spain facing an extremely uncertain future. On the other hand, "old vines" also have their peculiarities; although they manage on poor soils with little water, on the other hand the yield also decreases considerably with age. For these reasons, too, old vines are removed to plant young, more productive ones.
Answer: But there are also D.O. wine regions where even half a hectare must be fought hard and negotiated. In some of the regions where we are present, it will be very difficult to grow further. For example, in parts of Rioja, where we have entered the market, and in the small Priorat region in Catalonia. There, the investment sometimes means a price per hectare for which we would get 100 hectares elsewhere.


Question: Gil Family Estates is also in Montsant in Catalonia, with Priorat one of my favourite D.O. regions and the famous stone-old Garnacha vines in Calatayud.
Answer: For us it is also the case that we have a trump card, especially on the export market. We have a manageable production in many small D.O. regions, and so we also offer international wine connoisseurs insights into regions that are new and little known to them and wines from grapes that are also new to them. In the USA, we sell a Malvasia wine very successfully. Or the Garnacha wines from the D.O. region Campo de Borja. US wine lovers are much more familiar with "Grenache", the counterpart from France. However, the wines themselves have nothing in common, even less so when we press wines from the Garnacha Tintorera variety. We surprise our wine lovers and our customers with this. In doing so, we are eager to have curious customers who are willing to try new things. In a way, they learn as we grow as Gil Family Estates and launch new wines.
Question: It is also thanks to winegrowing families like Gil Family Estates that old grape varieties and autochthonous grapes are preserved and become better known - and appreciated - internationally through distribution and gourmet shops like Colono. Thanks to my stepfather, I went to wineries early on as a teenager and often to Tuscany; meanwhile, he is always up to date on what's going on in Spain, especially in the organic and natural wine sector. And besides the reds, he is enthusiastic about the Rías Baixas of Galicia, which you also have in Gil Family Estates ...
Answer: ... The most important thing is probably the knowledge of the land and the soil where you plant vines. Because there are countless things that can and will go wrong if you plant non-local vines that are not suited to the conditions. Are they resistant to the climate and heat? Will the fruit ripen ideally in these conditions? At Gil Family Estates, we take care to grow the varieties where they have been native for decades and centuries. To make our wines from them.
Question: How far has the conversion to organic viticulture progressed at Gil Family Estates? A key point that you have already mentioned, especially in the dry south of Spain and central Spain, is the elimination of artificial irrigation. And the process of conversion usually takes years. At the same time, there is a change in what wine lovers want, who prefer more and more organic production.
Answer: From the beginning, and one of our premises at Gil Family Estates is to become more and more sustainable, in all production. Another challenge is climate change. When Miguel Gil remembers the grape harvests with his grandfather, they usually took place in October, but now we always start them at the end of August in Jumilla. In addition, our vineyards and wine-growing plots are in areas where the vines have to endure severe hydrological stress. At the same time, the wine regions are also those where the wines usually have a comparatively high alcohol content; the sun, more heat and heat waves on poor soils provide for this concentration. Whereby we see that the market is less and less aiming at such powerful wines. Therefore, it is essential to keep a close eye on the grapes and their ripening process. To keep the alcohol content, which is getting higher and higher due to climate change, within the realms of possibility.
Question: I tend to go against the market, I like the "heavy" reds, such as Priorat and Montsant, and wines from 16 percent by volume, in the case of Priorat also nothing against 17 ...
Answer: (laughs) Even though we try to keep this value low in Jumilla, for example, our wines from here usually have 15 percent. In Calatayud it's the same. But you must be careful because these red wines very quickly have 18 or more percent. If they are made excellently, you hardly notice them.


Question: Climate change is also making itself felt in viticulture elsewhere in Spain. For example, the vineyards and parcels in Rioja alavesa [LINK: Ostatu] already extend to over 800 metres above sea level, which was unthinkable two or three decades ago.
Answer: Our highest wine-growing areas are in Castilian La Mancha, at over 1000 metres above sea level. Of our 1400-1500 hectares in total in Spain, the highest are around Almansa, on the central Spanish plateau. Our lowest vineyards are in the Montsant, an extremely mountainous, rugged region near the coast to the Mediterranean Sea, where we are at about 750-800 metres above sea level. Almost half of our vineyards are located here, in Jumilla. Although 1500 hectares is not a small area, and you also must consider that we have a very manageable, small production, partly for our premium wines. If we take our vineyards with the oldest vines, the maximum production is no more than 6000 bottles per year. And these are then also dependent on the wine year. Only if it was an excellent wine year do we produce the wine and bottle it. Otherwise, we also stop for one, two or more years. The quality simply must be top.
Question: How was the wine year 2021 for Gil Family Estates? And especially in Jumilla, where there was an immense dry spell until the end of March? Now, finally, it has rained, and sufficiently.
Answer: Yes, fortunately it has finally rained. Whereas our climate here in Murcia is a desert climate, or at least semi-arid. And we have extreme weather phenomena, with massive heavy rain that brings floods and mudslides. Plus, hail, even in summer, and storms, not an easy climate for wine. As I said, the generally low rainfall is not the biggest problem for old vines. It is much worse if the rain falls at the wrong time, before the harvest, and too heavily. Then it can happen that we lose a harvest in hours. As for the 2021 harvest in Jumilla, we were on time with the harvest, and it was a very good year. Otherwise, it can happen that our harvest in the northwest, in Galicia, was an excellent one, while in other regions the grape harvests are not optimal, and vice versa. In general, 2021 was a very good year, without extreme weather events and heavy rain, only in Montsant and Can Blau the heavy rain came a bit early last year. The young wines have turned out quite well, but we still must wait and see how they develop after five years.
Question: In some wine regions of Spain, the vines and grapes are protected from too much sunlight with sun sails, for example in Extremadura. Is this also the practice at Gil Family Estates in some places?
Answer: As far as I know, sun protection for grapes is especially important for white wines in some Spanish regions, and not so important for reds. And we at Gil Family Estates are much more specialised in red wines, they make up almost 80 percent of our total production, in the hot and sun-intensive wine regions. So solar sails have not been an issue for us so far. The grapes have a longer ripening process and cope much better with the sunlight.
Question: But you also have white wines, like a Moscatel (Muscatel) from Jumilla, a grape that is rather used for sweet wines and semi-sweet wines in Spain, unlike in Austria or Central Europe. Whereas these are rather fruity, and have their acidity.
Answer: Yes, unlike many of the Moscatel dessert wines in Spain, our Juan Gil Mocatel white wine is different, which is also due to the grape variety, it is a fruitier Moscatel grape that also has more acidity. We have experimented a lot with white grape varieties that can grow in our region of Jumilla and serve as the basis for excellent white wines. Our main problem in experimenting with other white wine grapes, such as Macabeo, was that the acidity was too low. This also meant that the shelf life of the wines was too low. In the past, white wines from Jumilla had to be consumed quickly; it was the case that they rarely lasted longer than the following summer after the harvest. For our Moscatel, we cool the grapes to almost freezing point immediately after the harvest, and the wine is fermented cold. And that too immediately after the harvest. The wine deceives you a little bit, very flowery-fruity in the aroma, in the nose. But in the mouth, it is very fresh, slightly bitter, mineral. As a wine accompaniment, we serve our Moscatel here in the bodega at tastings with dishes that you don't normally pair with white wines, like Mojama, which is the cured, air-dried tuna, which goes just perfectly, with salted almonds. It's also excellent with white asparagus, even though it's out of season. And grilled vegetables, an ideal white wine for the beginning of the barbecue season. The prejudice against the Spanish Moscatel that it is always sweet must be abandoned. Our Moscatel has not even two grams of sugar content, which is practically nothing.


Question: One of the "classics" from Gil Family Estates is the Juan Gil Plata, which has long been produced purely organically. From a grape that is still hardly known in Austria and Germany but has its qualities: Monastrell.
Answer: It is always difficult to say whether this grape variety is native to Jumilla and Murcia. In all wine-growing regions of the world there are vines that have large parts of the genetics in common, even if they are not genetically identical. Our Monastrell here, the mourvèdre in France, mataró in Australia are related. But through the many years they have been cultivated separately in different regions, they have also adapted. And developed their own qualities. The way these vines are cultivated is also different depending on the region. In addition, there were plagues, such as phylloxera, which destroyed the vines of entire regions. In Spain, Monastrell is the third most cultivated vine, after Tempranillo and Garnacha. And it is not only cultivated in the southwest of Spain, from Alicante southwards to Murcia, but also in La Mancha. In our region, almost 80-90 percent of the red wine grapes are Monastrell. We have our own greenhouse laboratory where we grow the seedlings when it comes to planting new plots or renewing old vines. This is the only way we can be sure that our vines can cope with the climatic conditions. On our estates, we only plant genetically identical vines that are typical for the zone. We also do not mix genetics from clones of cuttings. There were attempts here in Jumilla to plant more profitable French vine seedlings here, but they need more water, so within the first few years more than 40 percent of the planted vines died. For us, it was and is a basic principle to preserve the old Monastrell vines here, and in their genetics, even if the yield is lower. Our typical Monastrell variety here has very small fruit clusters, but with small, extremely close-grown grapefruits, a thick skin, which also benefits the strong colour, and relatively small seeds. Apart from the colour, this also has the advantage that very little water evaporates from the small surface area. The grapes have a high sugar content, which, as mentioned before, is also reflected in the alcohol content of the Jumilla wines; with luck, it will remain at 15 or 15.5 percent (laughs).
Question: I also know your wine from La Mancha, Almansa, the "Atalaya del Camino", as watchtowers from the Arabic era are called. Here, too, besides the Garnacha Tintorera, there is a small part, of about 15 per cent Monastrell ...
Answer: We never actually state the percentages, because our oenologist has the last word, not only with cuvée wines, and often it is a gimmick in the percentage range, which varies every year, with every harvest and production. It's all about ageing in oak barrels for years, where we refine and underpin the character of the wines.
Question: And which wine regions is the Gil family targeting for further expansion, if I may ask? In Spain, where you are present with Gil Family Estates in ten D.O. regions, and why not, internationally? For the former, I do find Toro near Zamora interesting, although I was told locally that Chinese investors and companies are buying into wineries here ...
Answer: We have always thought about looking beyond the Spanish borders. So, Chile was and is a country where we are definitely interested in being present. There are also very interesting opportunities for Gil Family Estates in the USA. But the way the economic situation is shaping up after the years of the pandemic, now overshadowed by the war in Ukraine, the most important thing is to concentrate first and foremost on our Spanish territories and fincas. We must continue to professionalise and optimise our production in different regions, in parallel with sustainability initiatives. The fact that all our wines are produced organically is already a highly ambitious project. The goal is to offer only organic wines in three years, starting in 2022. This is a considerable bureaucratic effort with the certification, but also in the field, in the vineyard, on the plot where the vines grow. Another cornerstone that we are consolidating is to become 100 per cent energy self-sufficient and not to be dependent on the electricity grid and market. We now have three wineries, bodegas, that are completely off the grid. These include Can Blau in Montsant, one of the first energy self-sufficient wineries in Spain. Morca in Campo de Borja, and part of our Juan Gil production in Jumilla. In the future, all our estates should be able to run on the energy they produce themselves, and no longer need electricity from the grid. In Jumilla, we are also eager to pursue a "zero waste" policy. On the one hand, we use everything that is left over from the grape harvest, and after pruning the vines, we make humus from it, which is fertiliser for our own vines and gardens. And at the same time, we also want to keep our carbon footprint as low as possible. One point for this is, for example, to reduce the weight of the bottles, which then of course plays a big role in transport. And it also simplifies the recycling of the bottles. In addition, all our wines are vegan, we don't work with any gelatine, any animal products. These are all very labour-intensive projects, ambitious, which also shows in the costs. It's a lot of commitment, and it's a lot of resources from our work that we spend on it. But we are convinced that there is no other future for viticulture and wine production. By the way, we are also starting to work precisely on sparkling wines, espumosos and cavas, a very interesting field, and from the Toro region. So not all the wineries there are in Chinese hands (laughs). At the same time, we also want to bring light wines with lower alcohol content to the market, which is also a future field. We are working on that in Rioja, around the Rosario Vera line. Rosario was the one who strongly promoted the family projects, she was the matriarch of the family, and in a way he was the "glue" that held the family together in this phase, that's why this wine bears his name. Honoro Vera, for his part, was the father of Miguel Gil, he too has a red wine with his name that is extremely well known in Spain and internationally.


Question: Consumer awareness is changing, and "organic" and "ecological" have gradually become anchored in almost all areas. Let's hope that the current world situation, with wars, crises, high energy prices and inflation, does not reduce the household economy of families to such an extent that they are forced to choose conventional products.
Answer: For us, it is the natural way we want to make wine. We make organic wines, and we have been gradually converting for many years. We don't specifically advertise this or make a big fuss about it. Rather, we want our customers to know that we produce organically and sustainably. And that's it. This year, our Juan Gil Etiqueta Amarillo is coming out as an organic wine, which we are very proud of. We hope that our customers appreciate that. Organic doesn't have to cost more, be more expensive. It should just be normal.
Question: The names of the Gil Family Estates wines are more or less the family tree; we had already mentioned Honoro and Rosario Vera ...
Answer: Juan Gil was always the father's name, the name passed on to the first-born of the sons, as is usual in most Spanish families. So there is a Juan Gil in every generation, seven by now. Honoro was the grandfather of the current generation, Miguel Gil Vera and Ángel Gil Vera. The Gil side of the family is firmly rooted in Jumilla, the Veras in La Rioja. If you want a family tree, I think my colleague has one, because the centenary of the family was celebrated in 2016.
Question: And how did you end up in Jumilla and with the Gil Family Estates wine?
Answer: (laughs) that's almost as hard a question. My family name Dugnol is clearly French, my mother is from Burgundy. But I was born in Madrid, 33 years ago. My parents decided to move to the Andalusian province of Jaén because my paternal grandfather had a house and some land there. My parents were biologists, and they simply longed for some nature, as opposed to the metropolis of Madrid with its millions of inhabitants. I then studied in Jaén, tourism and English philology, and when the time came for the first internships, while I was still studying, I knew I didn't want to aim for a professorship, but for business. I was particularly interested in the export industry. For a few years I worked in the olive oil sector, at Castillo de Canena. My life partner had long been working in Jumilla and we decided to live here, and I was already working at a bodega, but Juan Gil appealed to me more. Not only that I also bought the wines here. For me, Juan Gil was always a reference for quality. And the moment came when they called me and hired me (laughs). The wine business is simply a field where you are in a process of permanent learning, and that is something essential for me and my profession. I can't do the same thing every day. I also saw my parents, day after day, writing scientific texts on the computer. I wanted to do something different. To see new things and to keep learning.
Question: You have mentioned the subject of exports several times. How are the sales of Juan Gil Family Estates distributed, since they have a considerable weight in the Spanish gastronomy and hotel industry, and can also be found in well-assorted supermarkets, besides, of course, wine shops and gourmet shops?
Answer: Our focus, our vocation, is clearly the export markets, and that is also the reason why we are positioned the way we are today. The main market is the USA, but already in second place is Spain, with its domestic market. Canada and Germany are also very important for us, where we have been strong with individual brands for a long time. Our target audience is also guided by the fact that our customers can simply know that they are getting an excellent wine for the price they pay. The same thought guides us when we launch a new vintage or a new line, it should simply fit into this scheme. Excellent wines, for every wallet. And at the same time satisfy the curiosity of wine lovers, with grape varieties, regions and cuvées. Those who simply want to try a Garnacha Tintorera now don't have to immediately reach for the premium bottles from 30 and more euros, they can simply try ours, which are also available for less than ten euros. And see if you like this grape.
Question: To what extent does the Ukraine war affect the wine market and Gil Family Estates?
Answer: Russia and Ukraine are and were interesting and important markets for us. We also have customers in Belarus, but even more so we notice the insecurity in the region, with important large markets such as Poland, but also the Baltic states. Exports are falling, people are afraid, they are saving on luxury products, such as wines. On the other hand, the prices of electricity, fuel and transport are rising and rising, as well as other products and parts necessary for viticulture and wine production. We are concerned, and hope that the war and the crisis will be short-lived. First and foremost, for the people affected and the civilian population. As far as our business is concerned, we are fortunate to be very diversified after all, both in terms of production and markets.
Biography:
María Dugnol
(33), a native of Madrid with family roots in Burgundy, France, is the International Markets Manager at Gil Family Estates in Jumilla, Murcia.