Getting to know Ecológicos Lola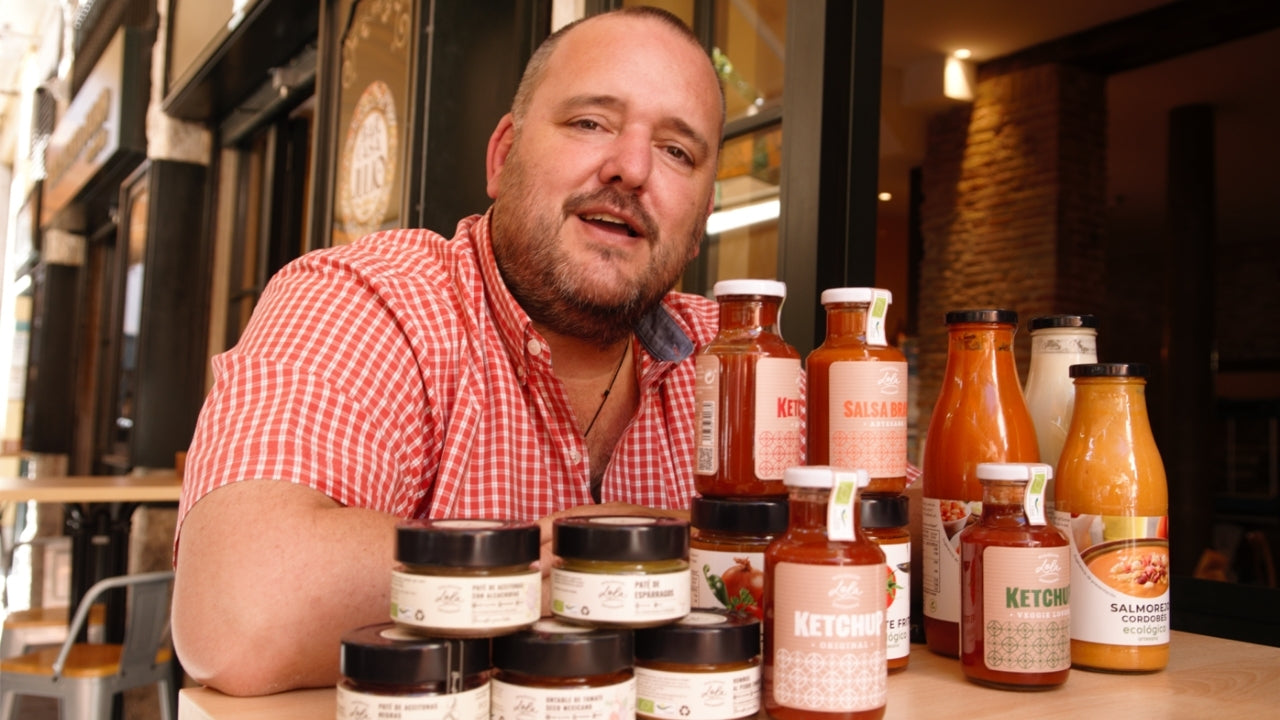 "It's clear that consumers are increasingly turning to organic products and ecological produce, and that's exactly our niche," says Alfonso de Cabo Moreno, managing director of Ecológicos Lola from Córdoba, Andalusia, in an exclusive interview with Colono: "Our products are about roots, memories, tastes, smells and people who taught me the most important things in cooking, like my two grandmothers." The company's top products not only delight gourmets, but they have also already found their way into the kitchens of fine-dining restaurants.
About two and a half years ago, Alfonso de Cabo Moreno took over the traditional cooperative Ecológicos Lola, which was founded 25 years ago around five women in a garage, selling typical Andalusian dishes in jars. From now on, De Cabo Moreno relies on purely ecological organic products of the "premium" category, with agricultural suppliers from the immediate surroundings, keyword "zero kilometres": The classics, such as the "Gazpacho andaluz" and the "Salmorejo" cordobés or the equally cold-eaten "Ajoblanco", made of water, almonds, dry white bread, and garlic are simple and delicious. In addition, there are other ready-made dishes in a jar or from a bottle, or that "can be eaten with a spoon", as they say in Spanish: The Spanish ratatouille "pisto", gourmet vegetable cream soups or lentils with paprika sausage, chorizo, all "eco" of course, and excellent. But also, the fried artichokes "a la amontillada", in sweet wine sauce, are a delight! And finally, gourmet spreads like hummus variations, among others light-sweet, with Pedro Ximénez, exquisite olive tapenades, and spreads made from dried tomatoes. As well as citrus fruit and blackberry-aloe jams, with maximum fruit and minimum sugar content. But Ecológicos Lola also offers sauces: in addition to the spicy "Salsa Brava", they now also have eco-premium ketchup, all sugar-free and in a vegan version.

Question: I am very pleased that you have come all the way to Granada and that we can find the time to talk about Ecológicos Lola. I have to say first, your products are an asset, and top quality. I have rarely, or never, tasted such a good tapenade of black olives, for example, or the spread of green asparagus, which is as intense as it is harmonious. Congratulations!
Answer: Our tapenades, the Patés de Aceitunas - we currently have four in our assortment - the ones made from green olives or the ones made from black olives, ripen on the tree until they are processed, which means that of course we don't use any chemicals in the production. Our olive grower leaves them on the tree as long as it takes to get this taste. That is our secret! And he always takes the risk that they will all be shaken to the ground during a thunderstorm. This way of drying olives on the tree is also very common in the Arab world. Another paté is made from green olives and dried tomatoes, you have yet to try it. But my "love" among the tapenades is, if you can put it that way, "green olive and artichoke", a delicacy, without a doubt. Very fine, and still "without family", is also our spread made of green asparagus - I agree with you - but this one will soon get some "siblings", I promise!
Question: You rely on "zero kilometres", which means suppliers of vegetables and other ingredients from the immediate vicinity. Which significantly reduces the CO2 footprint ...
Answer: That's right! For example, we get our olives, like almost all ingredients, from a farmer 30 kilometres away. From a village called Montalbán, from there also comes the famous fermented "black garlic", of La Abuela Carmen. And they are the same olives that will now be added to Colono's range. We also get our vegetables from this area, one of our farmers is also only 300 metres away from our farm. Only the tomatoes we buy from Almeria or Badajoz in the Extremadura, I must admit. Because only very few are grown in the province of Córdoba, and they are only ripe once a year, in season. This also affects the price, which is too high for our products.
Question: Dried tomatoes are not so common in Spain, what made you decide to market them in spreads?
Answer: We also realised that dried tomatoes are very popular, especially in France, but also in German-speaking countries and Italy. That's why we also created vegan spreads, five variations, half a world tour on the palate if you like, the pure, normal basic version, once Mediterranean, with capers and basil tastes very Italian, a central European one with mushrooms, spicy Mexican with fresh coriander and cayenne chilli, an oriental one, with a spice mixture like Ras-al-Hanut, and an "Atlantic" one, which tastes strongly of the sea, of cockles or seafood, an intense, surprising taste, which our combination of certain types of seaweed give to the vegan spread. Sometimes, rarely though, I get bored and then ideas like this come to me (laughs).
Question: Your hummus creations also stand out clearly, from the "mainstream", but also in terms of the purist variants of origin in the Middle East and the Arab world. Very light, airy, almost a mousse, and both garlic and tahina can only be tasted very subtly ...
Answer: Our hummus is a tribute to our past, our roots, our land. It is made from local organic chickpeas that have been grown around Cordoba for many centuries, a legacy of the Arab era in Al-Andalus. And we refine our hummus variations with de-alcoholised sweet wines, Montilla wine, Pedro-Ximénez, vermouth and now a local craft beer. Also, since alcohol is taboo in Islam, we wanted to show sensitivity here. The hummus with Pedro-Ximénez surprises you because it has a sweet note.
Question: Now I must ask you: Who at Ecológicos Lola comes up with the ideas for the products, innovations, and recipes?
Answer: In most cases, I do it myself (laughs). But we also work with certain chefs from time to time. And of course, we have a person in charge of production who is a real genius. On the other hand, we also follow the motto of the cooperative, "recipes from grandmother". Some of our new creations come from my grandmother. However, sometimes it is quite difficult to get certified organic products. For example, we will launch stockfish with chickpeas and spinach, typical dish of Lent before Easter in Spain, the "Potaje de vigilia", and beans with prawns. But here with fish and seafood, it's not easy. Sustainable fishing yes, but organic is another matter. There are producers in Latin America who have an organic label, but the importer in Europe does not recognise it. Our products are about roots, memories, tastes, smells and people who taught me the most important things in cooking. And my two grandmothers have had a significant influence on me here. And with these products I want to pay tribute to them.
Question: What are your most important sales markets? Gourmet shops, large supermarkets, chains? Gastronomy?
Answer: We sell most of our products through small shops, organic and delicatessen shops. We are also negotiating with three or four large distribution chains for the whole of Spain. And there are some restaurants, of a higher category mind you, in Madrid and in Córdoba, which offer our pisto and our artichokes and our ajoblanco to their guests. One restaurant in Córdoba uses our green asparagus paté as the basis for the fideuà, for the stock, tastes brilliant! Even before we entered the business, 60 per cent of sales were to a single buyer, which created an immense dependency. And with the crisis, the customer dropped out and Lola was left with nothing. But we are still in business with this customer. And we have conquered new markets in new countries. Just for example, at Colono they ordered about 30 kilos of total goods from us in the beginning, the last delivery was over 300 kilos. That is a significant increase. In the beginning, there were only three products, but now I think there are nine. And of course, consumers are looking for organic products and ecological produce, which as I said is our niche. And Colono, of course, is also increasingly focusing on "organic".
Question: I know the former products of the cooperative from big supermarkets, and found it in many pantries of friends and their families ...
Answer: ... indeed, in the past big supermarkets were the base for "Lola". It is a traditional cooperative that was founded over 25 years ago by five women - and one man, but he only lasted three months (laughs)! - were founded. It has gone well, for almost 15 to 20 years. The five women joined together in Villarrubia back then after losing their jobs over the crisis at the time. They did training in the food sector, and decided to start their own business. With a small canning factory, and like some of the big technology companies: in a garage. They grew, innovated, and were the first, or among the first, to launch gazpacho and salmorejo soups in jars. There was nothing like it at the time, it was a pioneering achievement. Plus, the homemade, and the handmade. They still crushed the tomatoes for the soups by hand. Because at the beginning they didn't have the capital to buy machines, like big, powerful pureeing machines. It was all manual labour, almost unbelievable. At that time, almost all but three were conventional products, that is, not "organic".
Question: Where does your interest in the kitchen, cooking, and gourmet products come from?
Answer: I am an entrepreneurial spirit, but my father always said that I am a little unconscious, I often just say "yes", and that is also courageous at the same time when I tackle things. I've always been interested in the kitchen, not just in terms of food, as you can see from my girth (laughs). 30-35 years ago, I was already following the long-famous TV chef Carlos Arguiñano, I already had one of his first cookbooks when I was a teenager, and I would copy them. Once a week I cooked for my mother, always on Sunday. During and before my studies in economics, I cooked for acquaintances for baptisms, communions and parties, real caterings, for over 100 or even 150 people. And I had a great desire to work in a restaurant, and a good friend of our family has one of the best restaurants in Cádiz. I helped once, catering for the participants of a big regatta, and the cook dropped out. So, I ran the kitchen that day, and everything went well. A lot of things were new to me as a 22-year-old at the time, but the 600-650 guests were all satisfied. The boss wanted to hire me, for one of his three restaurants, and the catering. I was about to accept. But my father told me: When your friends go out, you work. And when you go out, your friends work. The working hours in the kitchen are just like that. So, I went on to study, economics. After graduating, I worked for some international companies and came back to Córdoba. As an independent consultant and advisor, and I turned to ecological agricultural projects, like Bodegas Roble from Montilla, the first ecological bodega in Andalusia. And also, for the owner, I cooked every now and then for events he organised.
Question: What finally made you take over the cooperative?
Answer: The cooperative was in a bad economic situation. For 15 years they didn't bring a new product to the market, there was a lack of decisions towards innovation. Then two of the five women retired, and things went downhill. They had big supermarket chains as distributors, like Corte Inglés or Carrefour, among others. But that was not enough. In addition, no one in the cooperative was familiar with the new possibilities offered by the internet. They were accumulating losses, and at that time I was already thinking about starting a similar project when I came across Lola. And that they would either sell or close the cooperative. I told this to two friends, also since we were all a bit foreign to the sector, whether to get in. They gave me the responsibility, and so did my wife. So, we entered two and a half years ago, and after analysing the market, we knew that we only had a chance, a niche, in the organic and ecological sector. All our products, 97 percent, except for an orange marmalade, which I will tell you about later, are organic or ecological, with the seal. And I will also get the seal for the orange marmalade, I am sure of it!

Question: How was your start with "Lola"?
Answer: We had to change almost everything, and rethink. Even the recipes for the gazpacho and salmorejo were a bit outdated. We spent many hours tasting other products to make ours stand out. We tasted 22 gazpachos from other producers. 90 per cent are sold chilled, which is possible thanks to a cold pasteurisation machine under high pressure, but this machine costs 600,000 to 700,000 euros, which small producers cannot afford. Ours is heated before it goes into the jar. But the heat changes the taste of the tomato a little, towards "tomato frito". But we use a mixture of vegetables that contrast this. Our gazpacho therefore tastes almost like a chilled one. In the blind tasting with chefs from Córdoba, whom I have known for a long time, ours reached the top of the field, around 80 points. And our "gazpacho andaluz" is made entirely without water, as very, very few suppliers do. The liquid is pure from the tomatoes and the cucumbers. On the other side of the cold soups, our "salmorejo cordobés" is very thick, with dry white bread, as is customary in our province. And you eat it with a spoon, with cubes of Serrano ham and a chopped hard-boiled egg.
Question: Did you continue to employ the cooperative team?
Answer: Of course, that was one of our main concerns, to keep the jobs that were there. When we started, there were three of the founders, and the husband of one of the women. Today, the four of them still work for us. We were always aware that the machines, some of which are 25 years old, can and will break down. But you can replace a machine. The knowledge, experience, and skills of a person in the kitchen, and in the preparation, you can't just replace that. For me, buying the company without continuing to employ the staff was never an option. It was an absurd thought for me. All in all, we are currently working with a team of only six people. Four from back then, me and another colleague in charge of sales.
Question: In German-speaking countries, three indispensable basic recipes of Spanish cuisine are still not very well known: "Tomate frito", "Sofrito" and the "Pisto" ...
Answer: "Tomato frito" is a classic of Spanish cuisine, which we prepare very traditionally and gently by hand in a very large pan. We cook the fresh organic tomatoes down to about 50 percent of their original volume. It depends on the season how much water the tomatoes contain. In summer they have more liquid than in winter. Our tomato frito is one of the few that is completely sugar-free, like hardly any other product on the market. We sweeten it with a little organic honey. Of course, we don't add any citric acid either. The "Sofrito" is the practical thing to always have in the house, I use it even more than tomato frito. You can use it for so many things, for pasta dishes, for meat, in an "empanada", the typical dumplings, to rice dishes, for example for paella. One of our customers in the USA markets it, like Colono, as a "paella base". And then there's "pisto", the Spanish ratatouille. A warm pisto and an egg on top, some bread for dipping, and that's all you need.
Question: But the spreads, patés and jellies from Ecológicos Lola are not just for bread or picos, they are also popular with chefs, I have been told ...
Answer: ... as I said, I have always liked the kitchen, cooking and gastronomy. And I like to experiment. That's why it's also important to me that our products are not just spreads but can be used in a variety of ways. The Mexican-style dried tomato spread, for example, is just as ingenious and delicious on a pizza as it is on pasta. Yesterday, my children made an "empanada" with the spread and canned tuna, and the result was excellent! I always try to create new products that are simply good, and you can taste that, but they should also be able to find their use in the creation of dishes and meals. This is especially evident in our "family" of spreads, which you can not only smear on bread, but for me they are enrichments for dishes. Ideal to have in the pantry. If you use them for refinement, you come up with extraordinary taste creations. Like our jelly made from wormwood, for example, which tastes unbelievably good on a fish with white meat in the tube or pan, spread on the fillets just before serving. Simply delicious! Or the Pedro Ximénez jelly, which is also delicious with desserts or cheese. Or with foie.
Question: You can also spread your jams on bread ...
Answer: I think our organic tangerine jam, which we make entirely without gelling agents, and which reminds us a little of bitter orange, is very successful. We use part of the peels, and very importantly, the seeds, which we remove by hand. Because they contain a natural gelling agent. And we have an olive jam that is something completely new, something, surprising, you should try it! As well as a jam made from huckleberries and aloe vera, which we also quite liked, because it hardly tastes of aloe (laughs), which has a slightly bitter note. I personally don't like aloe either (laughs), but it harmonises excellently with the huckleberry. But the combination allows us to have a fruit content of 85 percent! And that's why we hardly had to add any organic cane sugar.
Question: How did the idea to produce organic ketchup and vegan ketchup "Premium" come about?
Answer: Personally, I was disgusted by ketchup. But my colleague in the commercial sector, we were in Germany at an organic fair, and we tasted handmade, organic ketchup, and that was the turning point for me. And we decided to make an outstanding premium ketchup. Again, countless tastings, and our team of chefs gave us top ratings again. We go for top quality, upmarket in price, but if you look at the quality, the price-quality ratio is right.
Question: Have you failed with any product?
Answer: We have a wide range of products, and with the hummus and the dried tomato spread, we have a basic mixture that we then refine. With the hummus, for example, the one with Pedro Ximénez is undoubtedly the best-selling. With the dried tomatoes, the oriental flavour doesn't go down so well, perhaps that's also due to the region we cover. In any case, these are processes of what I call natural selection. What doesn't work is taken out of the range. We made 500 units, we sold 250 in one and a half years. No problem, the shelf life is three years. What was more of a real challenge was to start in the middle of the pandemic. Just after one, one and a half years, when everything really started to take off, we came back from a tour to Bordeaux, Belgium, Barcelona, and Pamplona to some organic fairs. We were just in Pamplona at another fair when Prime Minister Pedro Sánchez announced the first lockdown at midnight on 13 March. We went straight back to Córdoba. But we weathered the crisis well, and without much distribution, supermarkets among other things. We saved face, and profit. And it now looks extremely good for the current quarter.
Question: What are the ideas for future creations at Ecológicos Lola?
Answer: After reaching an agreement with the Mezquita-Catedral of Córdoba, we have made on the Patio de los Naranjos, to produce a jam from the bitter oranges, which will soon be on the market. 98 orange trees grow there in total, 97 of which are bitter oranges. Only one carries sweet ones. For the project, we are working with a social inclusion NGO through Caritas. We sweeten the organic jam only with organic cane sugar. It would be absurd to just let the oranges go to waste every year. This is how we create something special. New gourmet soups and vegetable cream-soups, we are producing now, a tomato soup with Montilla sweet wine, courgette soup with roasted leeks, and some Oloroso sweet wine, cream of pumpkin, and another one made of spinach with kale. We'll soon be launching a cream of courgette soup, a spinach soup, and a cream of pumpkin soup with oranges, just in time for the season, which is starting now. And we've developed vegan mayonnaises, based on organic soy, another we're making with sunflower oil and one with olive oil. And: At the end of the year, we will add a small family of kombucha drinks.
Thank you very much for the interview and your time, and continued success!
Biography:
Alfonso de Cabo Moreno is the managing director of Ecológicos Lola S.L. in Villarrubia near Córdoba. The entrepreneur and business consultant took over the tradition-rich cooperative two and a half years ago, and since then has focused exclusively on organic products from purely ecological production and vegan products in "premium" quality for gourmets. The married father of two has always been an enthusiastic cook himself, loves to experiment and create new, surprising taste creations. With success!